Getting Started - Learn to earn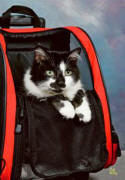 Make sure your kitten associates you with all the resource - food, praise, positive attention, and freedom.

Never provide a resource when your kitten is misbehaving or demanding it. Simple cause and effect teaches your cat to shape his or her own behavior. You want your kitten to figure out and learn from you what behaviors gain your approval and the goods.

Be sure you meet you cat's basic needs for daily fresh food and water, play, exercise, companionship, learning, scratching, privacy, and safety.

Offer treats and praise when teaching your kitten new behaviors.