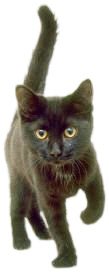 Getting Started - Reinforce coming when called


Ping, pong kitty

When your kitten has learned to come when you call, then try this game. Start with a hungry kitten and human partner. Sit on either end of a hallway with the hallway doors closed and the kitten with you. Take turns calling the kitten from one end of a hallway to the other.

If needed, show the kitten a treat to get the game going. If your kitten knows how to sit, give one treat for coming and a second treat for a sit.

Reinforce learning: Call your kitten before every meal and before anything wonderful happens. Praise and give treats each time the kitten comes to you.