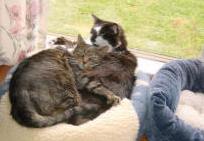 Getting Started: Comfy cat beds

A common error people make with a new kitten is not providing comfy cat beds. Felines bond to locations. If you provide comfy cat beds, your kitten will bond to his or her beds instead of shedding all over your furniture.

ü Put one bed in a kennel (Bond your kitten to kennels.)
ü Feed your kitten premium quality kitten food in food puzzles and other toys inside the kennel.
ü Cover the bed with a hand towel or fleece (You can buy rolls and cut to size) and throw these bed covers in the washing machine once a week.
Home sweet home: If your new kitten seems stressed when you are not home, keep the radio or television and lights on during the day to add more comfort.>
Late Socialization: 9 to 16 weeks old[1]: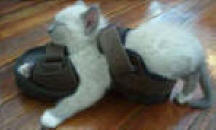 Continues to learn social skills.

Social play peaks.

Social conflict over status may emerge.

[1] AAFP. (2004). Feline Behavior Guidelines.