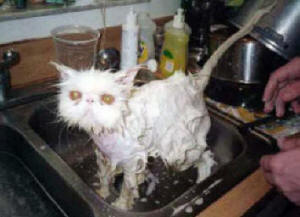 Getting Started - Nail trims


Give your kitten a pedicure

Nail trimming does not have to hurt to be good. Before you trim one nail, introduce your kitten to paw holding and gentle massage. Start when your kitten is sleepy or very relaxed. Give treats to make it a fun experience. Over time, you will be able to wiggle each nail.

Avoid associating nail trims with pain. Take just the tip off of the nail. Only trim one nail each day.

If you accidentally cut too much of the nail, you will have a hard time convincing your kitten to allow you to do this again. The quick is the pink, living tissue inside the nail closest to the paw. It HURTS your kitten if you cut it.

Once your kitten accepts you wiggling toes, begin introducing a nail file on one toe nail each day. Make sure you praise the kitten and offer treats for cooperation. If your kitten resists, stop. Start another day and go more slowly.

Cat nails can grow into the paw pad and may get caught on objects if not self-groomed on scratching posts.

---
Error-Free Kitten Raising Tips™ and Positive Cat Parenting™ for your kitten.