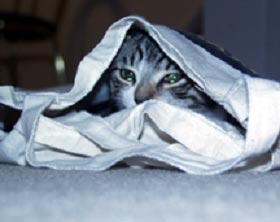 Getting Started - Noise Phobias
Phobias can develop from a single experience or from continued exposure to the fearful stimulus.
These phobias may develop because of an inherent sensitivity to the stimulus (i.e. a genetic predisposition) or due to exposure to a highly traumatic experience associated with a stimulus (e.g. a carport collapsing on the pet in a windstorm, cat being in the car during a car accident, being locked in a closet, etc.).
With multiple exposure to a fearful event a cat may become more intensely reactive if it is reinforced by receiving attention or affection by well meaning owners who are merely trying to calm the pet down.
Although some pets react with mild fear responses of panting and pacing, others get extremely agitated and may become destructive or panicked.