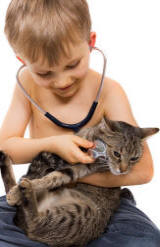 Getting Started - Create a kinder, gentler visit


Don't teach your pet that the veterinary practice is a dungeon of terror. Instead, make the veterinary practice the cookie place where good things happen. Too hard? Try these tips:

ü Fast your kitten the day of a veterinary visit. Bring a baggie of favorite treats that your kitten only gets on special occasions such as veterinary visits. Try different "bribes" until you find what makes your kitten do tail flips. Kittens are individuals. Test, in advance, cooked chicken, tuna fish, Cheez Whiz, and commercial cat treats.

ü Kennel train your kitten and take your kitten with you for many short car rides. Always couple these car rides with your kitten's favorite treats in the kennel. Talk happy to your kitten. Praise quiet relaxed behavior. Ignore any stressful behavior.

ü Bring your kitten to the veterinary practice in a favorite kennel with a big fluffy towel inside. The morning of the veterinary visit, apply Feliway to the inside of the kennel. Feliway is a natural feline pheromone used to lower feline stress.

ü Do not allow anything bad or painful to happen to your kitten at the veterinary visit. Remember, you are in charge. Keep the kitten with you in the exam room for treatments so you can help distract the kitten.

ü Bring a big fluffy towel so you can take your kitten out of the kennel and prevent an escape. Bring a pillow case as a hiding place for the exam table. Just being able to hide lowers your cat's stress.
---
Error-Free Kitten Raising Tips™ and Positive Cat Parenting™ for your kitten.