Getting Started - Leash training

Proper kitten attire

Introduce wearing a collar and harness as simply a part of life. A kitten that is
comfortable on the end of a leash can be safely taken places outside of the home.

Put the collar or harness on when the kitten is already relaxed.

Give praise, treats, and loving for the minute this new apparel is on. Then, take it off and walk away.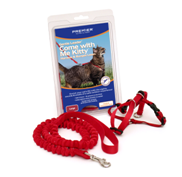 Progress to having the kitten wear a collar during meals. When the kitten is comfortable wearing a collar, introduce the harness in the same way.

In one to two weeks, attach and hold a leash and follow the kitten around the house. If you let the leash drag, the kitten may attack it in play.

Proper identification

Don't risk your kitten getting out of the house and wandering away without proper identification. Put a break-away collar and ID tag on your kitten from day one.

Place a bell on the collar to help scare birds away if your kitten to prevent your kitten from becoming a stalker.