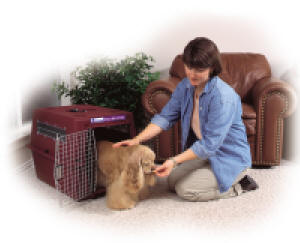 Getting Started Day - Housetraining, Haste Makes Waste

Here are common mistakes that people make in with new puppies.

1. Not controlling food and water so that elimination is more predictable, helping the puppy learn faster. Puppies need to be taken out to eliminate every 2 - 3 hours. Eating and playtime stimulate the need to eliminate.

2. Physically punishing puppies for mistakes in the house instead of preventing them with 100% supervision.

3. Giving freedom before the puppy eliminates instead of after as a reward and "safety zone."

SAMPLE SCHEDULE - Rule of thumb: pups can "hold it" for one hour longer than their age in months. NEVER let him out of the kennel for whining or fussing. Wait a few minutes until he is quiet, praise, "Good quiet" and let out.

| | |
| --- | --- |
| 6:00 am | Carry pup from kennel to potty area. If no elimination back to kennel for 15 min. if elimination, play. |
| 6:15 am | Hand feed kibbles for "learn to earn" training to come and sit, then give breakfast in the kennel. |
| 6:30 am | Go back out to the elimination area (20 min. after eating). Potty, then play indoors or leash train walk. |
| 7:30 am | Back into kennel with safe, engaging chew toy. If you are home, keep pup indoors on leash with you. |
| 11:00 am | Carry pup out to potty area, give cue, "Go Potty," praise, play, back in kennel at noon or close tether. |
| 3:00 pm | Leash walk to the potty area, cue, "Go Potty," praise, then play fetch or otherwise exercise. |
| 5:30 pm | Carry pup out to potty area, give cue, praise, hand feed learn to earn, dinner in kennel. |
| 6:00 pm | Out to potty, indoor supervision on leash with you, on a mat, calm praise for chewing on toy |
| 7:00 pm | Out to potty - playtime is he/she goes, indoor fetch, then on mat with chew toy, close tether training |
| 10:00 pm | Last potty break before kenneling for night. Best to place kennel in your bedroom. Ignore all whining. |

*Alternative to kenneling during the day is a small area like a bathroom or exercise pen in the kitchen with potty pads, open kennel, a good chew toy and 2 toys rotated daily OR a puppy daycare or veterinary daily board.
_________________________________________________________________________________

__________________
Positive Dog Parenting® by Rolan Tripp, DVM and Susan Tripp, MS

Helping you raise the dog of your dreams and best friend for life.
The content of this web site is copyrighted and content can only be copied or distributed through video, print, or the internet with paid Animal Behavior Network Membership and Copyright information included. NO DUPLICATION WITHOUT PERMISSIONS.