Getting Started Week 32 - Little Dogs, Big Egos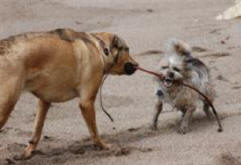 The most common mistakes people make with small breed dogs are:
1) babying them, 2) not exercising them off the property, and 3) not training them, believing it won't be necessary.
They think small dogs knows that larger humans are in charge because of the size difference. So, they spoil the little dogs. Unfortunately, aggression is very common in small dogs. Heard of killer chihuahuas? Believe me, there are people who love these dogs and fear them.

Ask any behaviorist how many little dogs they see for aggression and unruly behaviors. Just because a dog is a small breed does not mean they aren't wired with a canine brain. Just like larger breeds, small breeds require early, positive socialization and gentle yet effective training methods. Most importantly, small dogs need to learn, early on, how to act like a small dog to keep out of trouble.

Sadly, small breeds dash out front doors demonstrating territorial aggression only to meet fatal results when larger dogs they are aiming to chase off their property nail them.

If your small breed is not housetrained, is destructive, aggressive, excessively barks, guards food and toys, or shows you any other behaviors you don't understand and that prevent you from being the best friends possible, consider help from a professional. Call a Veterinary Behavior Technician at 1-800-372-3706 for more information.

---
Parenting Tips™ for your puppy
| | |
| --- | --- |
| Error Free Puppy Raising™ - Click on links below to learn NOW: | |