Getting Started Week 30 - Relaxation
D
o you wish you could help your puppy to simply relax and enjoy being held?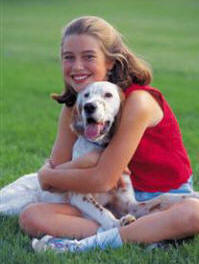 This is possible, especially if you have been doing gentling and leadership exercises for some time and your puppy has already learned to trust you.
Here is something to try. However, if during these exercises, your puppy shows any sign of panic, then discontinue right away and seek professional assistance. This exercise is silent.

1. Pick a time when your puppy is relaxed anyway. This is a great exercise to do at night while watching television. Sit on the floor with your puppy. Be relaxed and happy. Offer a few treats. Then place your puppy in a sit position with your pup facing away from you.

2. Get into a position where you can hug your pup firmly - one arm over your puppy's body and the other under your puppy's neck - holding firmly. You should feel as if you can prevent your puppy from getting up and yet you are both very comfortable.

3. You can accept kisses on the face with calm praise. When your puppy begins to wiggle and squirm, you gently hold tighter so that your puppy cannot leave this sitting position in your lap by his/her choice. You must be relaxed and non-threatening.

4. When your pup begins to relax, you relax your hold. By cause and effect, your puppy will learn the way to freedom is by relaxing and not struggling. Your pup learns that you are powerful, in control, but not a threat. Then, pick one of the times that your puppy has relaxed and release completely with praise and a treat.

5. The end result will be your ability to place your puppy in this position at anytime and have a completely relaxed, comfortable companion. Do this exercise for only a few minutes at first, then gradually over days, weeks and months extend to 30 minutes while watching television.
---
Parenting Tips™ for your puppy