Getting Started Week 28 - Stress Tolerance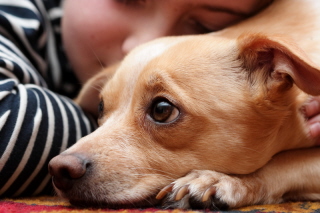 No big deal! That's what we want your puppy to think when he or she is experiencing a little stress. In other words, if your puppy is experiencing a little stress and can simply cope, then you will see fewer stress-related canine behaviors. problems.

The way to increase stress tolerance is by teaching your puppy that it pays off. Your puppy needs to learn from you that praise and rewards result from tolerating short periods of stress whether it's during "gentling" or "close tethering" or "kennel confinement" or teeth brushing, bathing, waiting quietly to be let indoors or outdoors, or being on a "down-stay", etc. Start with baby steps to help your puppy develop this frustration tolerance.

If your puppy tolerates a little stress, you are more likely to take your puppy places with you. The more time you spend together, the more teachable moments you will have and this enjoyable companionship is good for both of you!
---
Parenting Tips™ for your puppy
| | |
| --- | --- |
| Error Free Puppy Raising™ - Click on Library Icon below to learn more NOW: | |